Configure The Windows 7 "To Work" Options


eBook -

$19.99
---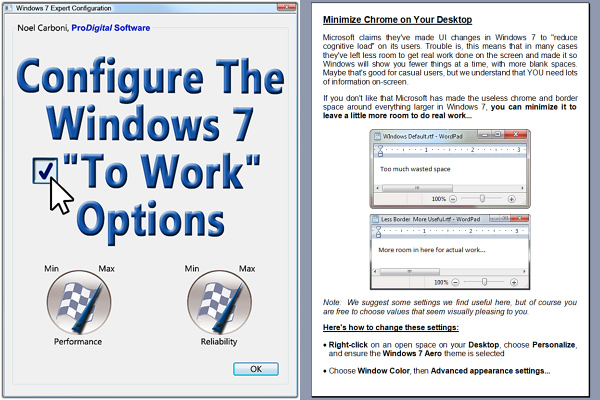 Our eBook chock full of professional setup and tuning info - the essential "How To" you need to get the most out of your Windows 7 system.
It started as a set of notes our developers at ProDigital Software have been building up for years to help us quickly set up our own development workstations and server systems and get them to where they are lean, stable, and useful. This information has proven hugely valuable to us, allowing us to concentrate on our work instead of trying to make our computers work right.
By the time we had accumulated 100 pages of hard-won information and put it into practice, it occurred to us that this amazing collection of tips, tricks, and tweaks would be essential for anyone looking to get the most out of their Microsoft® Windows® 7 installation, so now we have made it available to you.
If you've ever wanted to get the best performance and stability out of a Windows 7 system, you NEED this guide!
Published as an inexpensive eBook in all the popular formats, get this guide today for your Kindle, iPad, Nook, or view it on-screen while tuning up your Windows 7 system.
---
In the guide we describe how to set up some useful processes. Here are the free companion files, in a zip archive, that the book instructs you to download. Open the zip file, and save the tools in a folder on your system from which you will run them.

---
---